Hi, guys! Today, I am back with another post. Remember, I was really excited to show you the outfits I shot with? Well, you have seen one of the outfits in my previous summer fashion post. For today's outfit, I chose to flaunt my boho chic side. The outfit I chose is apt for summers. The fabric is breathable, it's lightweight and it's indigo!
Embroidery is on trend right now. From sarees to jeans, embroidery works are everywhere. The two trends that are ruling the market currently are, a. Embroidery and b. Patches/Pins. I love both of them! For this post, I have collaborated with Loom Tree. They asked me to go through their collection and choose one for myself. As soon as I landed at their website, I instantly fall for their collection. You'll know what I mean once you visit their website.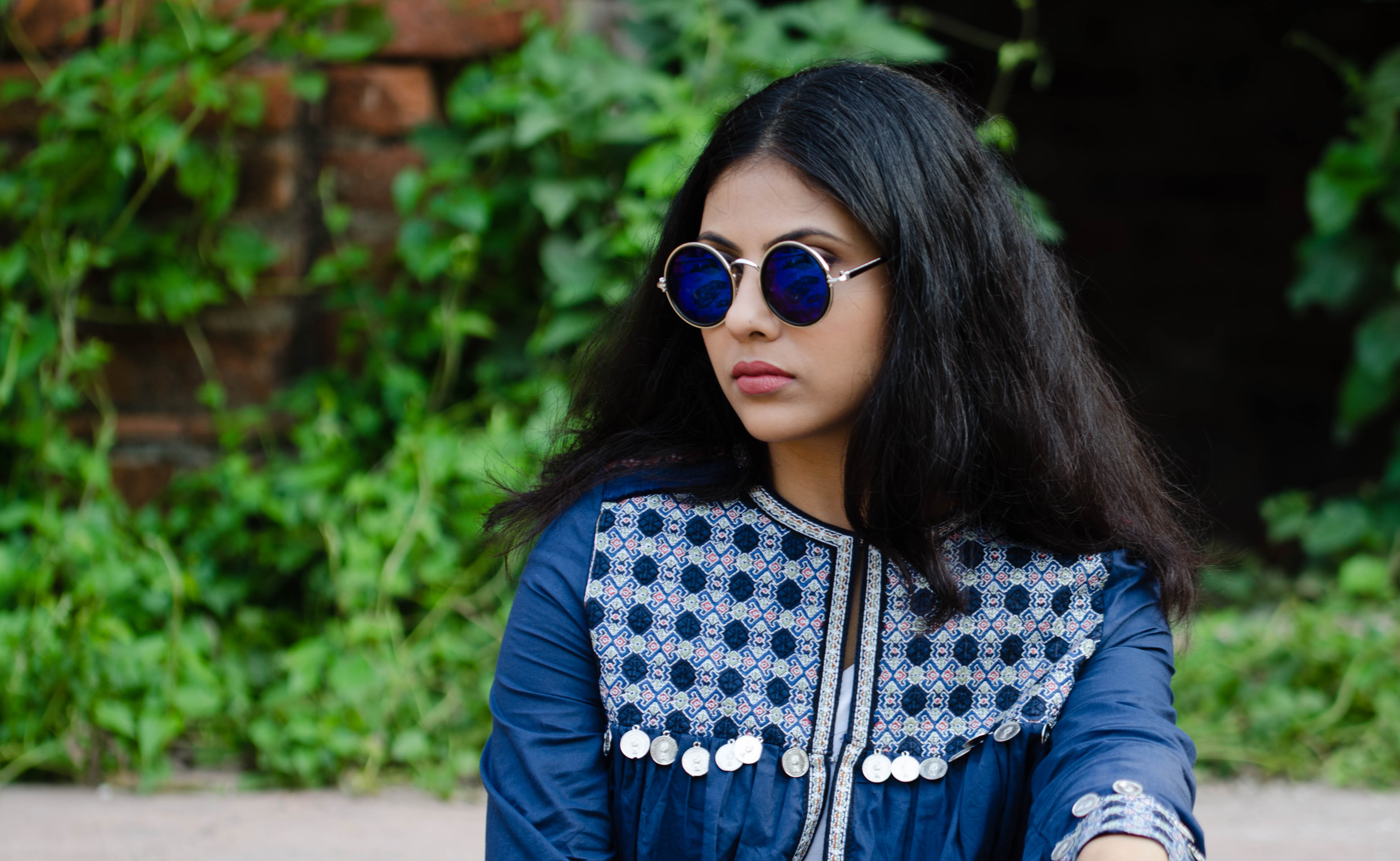 About Loom Tree
Loom Tree is an Indian clothing brand that makes boho/fusion ethnic wear that is loved by people who want to value artisanal fashion through their lifestyle. The materials that Loom Tree uses to make their clothes are of high quality. They use organic cotton, handloom wool, Ashima silk (Peace silk) and upcycled fabrics. They specialise in contemporary, bohemian-luxe womenswear.
"Loom Tree's main objective is to offer exclusive fashion whilst improving the lives and communities of the artisans, craftsmen, weavers and farmers in developing countries who hold the traditional skills needed to make beautiful, authentic and timeless things."
"Grounded in traditional Indian textiles, we celebrate in global artisan craft. We believe the contemporary fashion industry has lost its connection to the producers at the bottom of the supply chain so unlike other fashion brands, we don't hide our suppliers away. We acknowledge them so that each and every product we sell has an instant story to share with the world."
So, as we are done knowing Loom Tree, we should move forward to the outfit.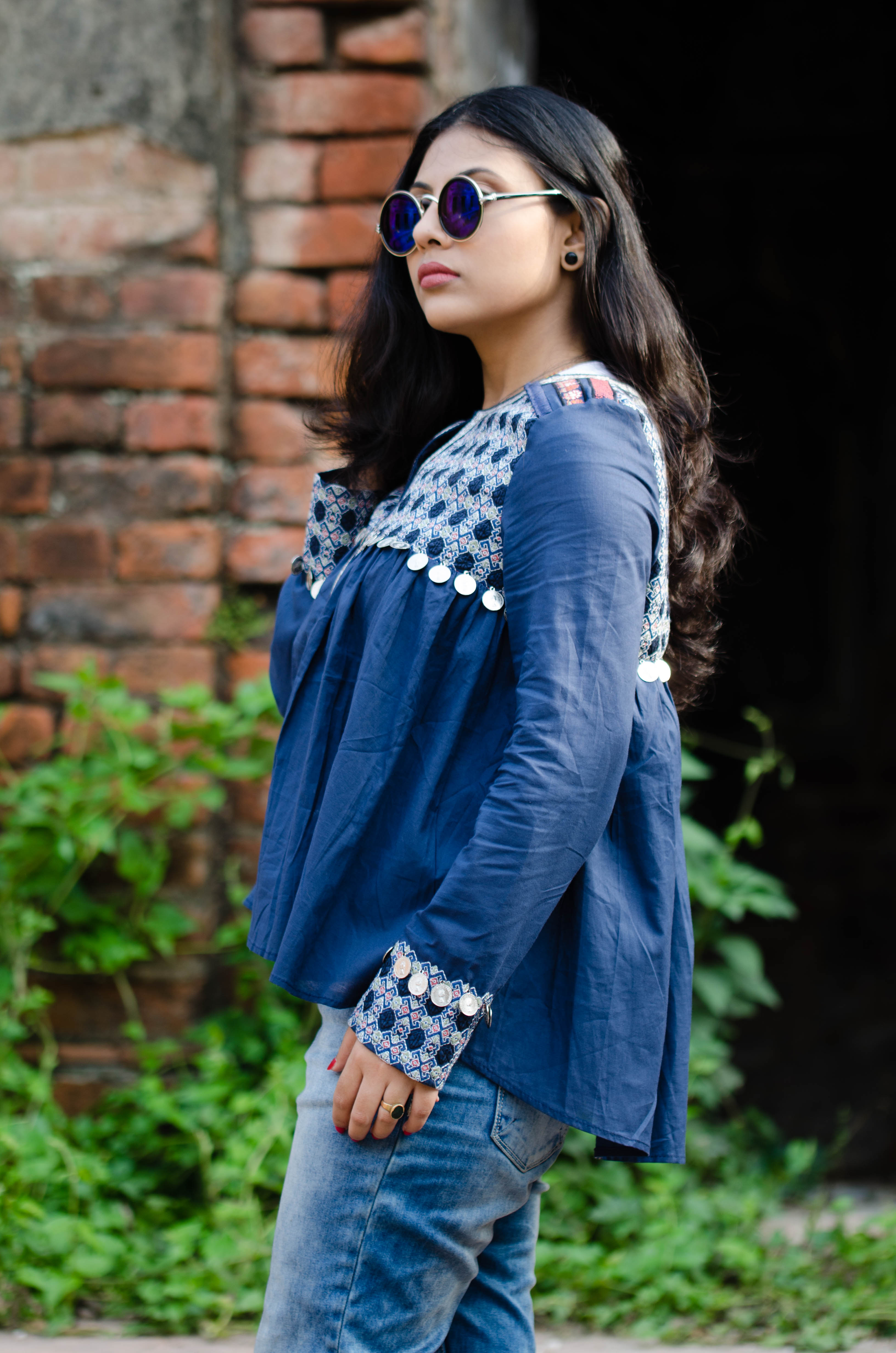 Firstly, let me tell you about the piece I got from Loom Tree. I got this very pretty indigo top/shrug/jacket that has beautiful embroidered patchworks on the cuffs, shoulders and chest. The cuffs of the sleeve have also got some boho style metallic coin detailing which I love! This top (as mentioned in the product description) is made of 100% cotton. I love this top because of two reasons. First, the coin detailing and second, the loose-fit and breeziness.
Keeping the boho element in mind, I thought of coming up with a fusion look. So, I wore this top over my plain white tee as a shrug and paired it up with faded blue jeans and ethnic, golden sandals.I didn't accessorise much as the top itself is a statement piece. I just styled it with a pair of these blue round sunnies from Lenskart. Overall, the outfit reflected a casual, retro, boho style. I am really happy with the outcome.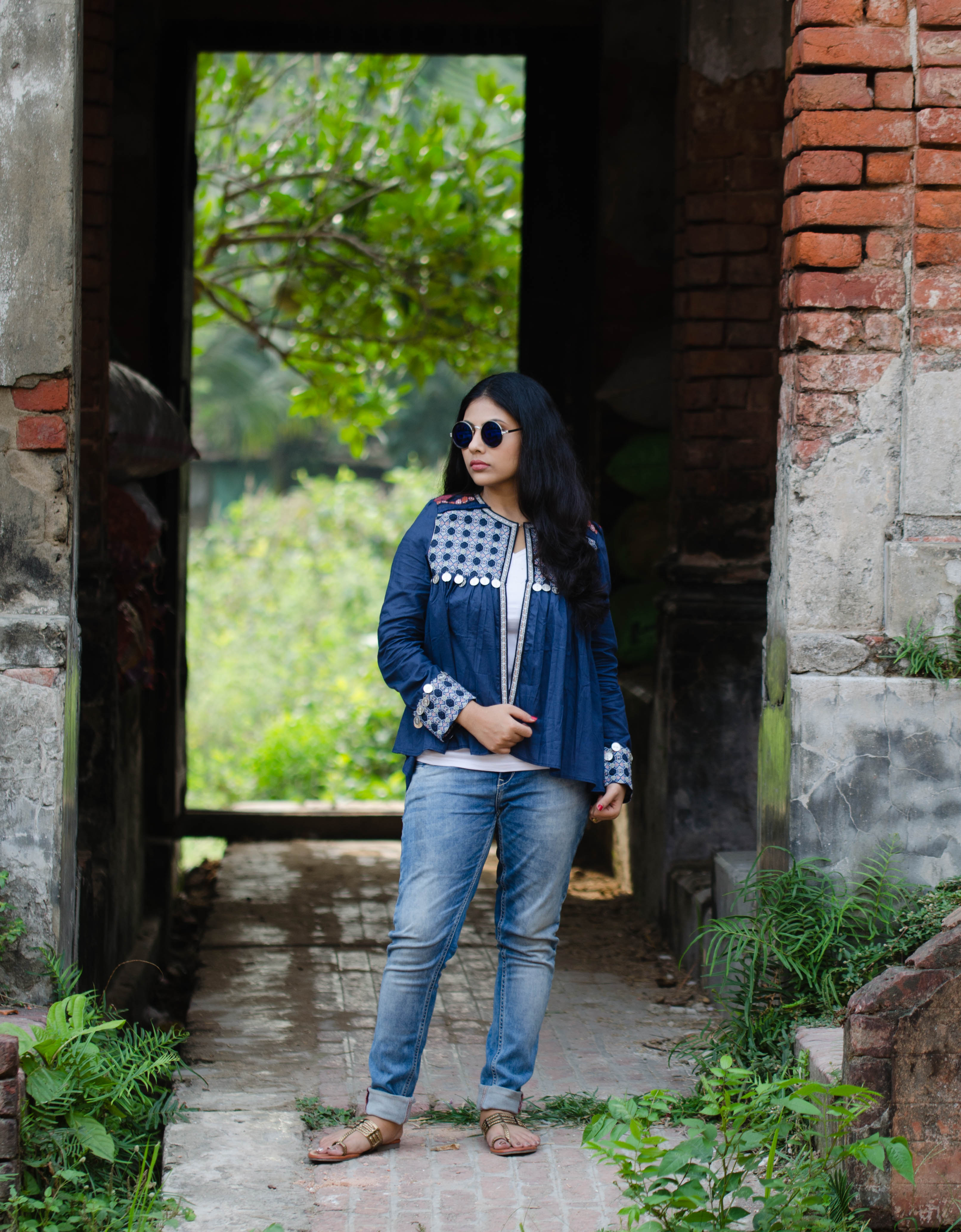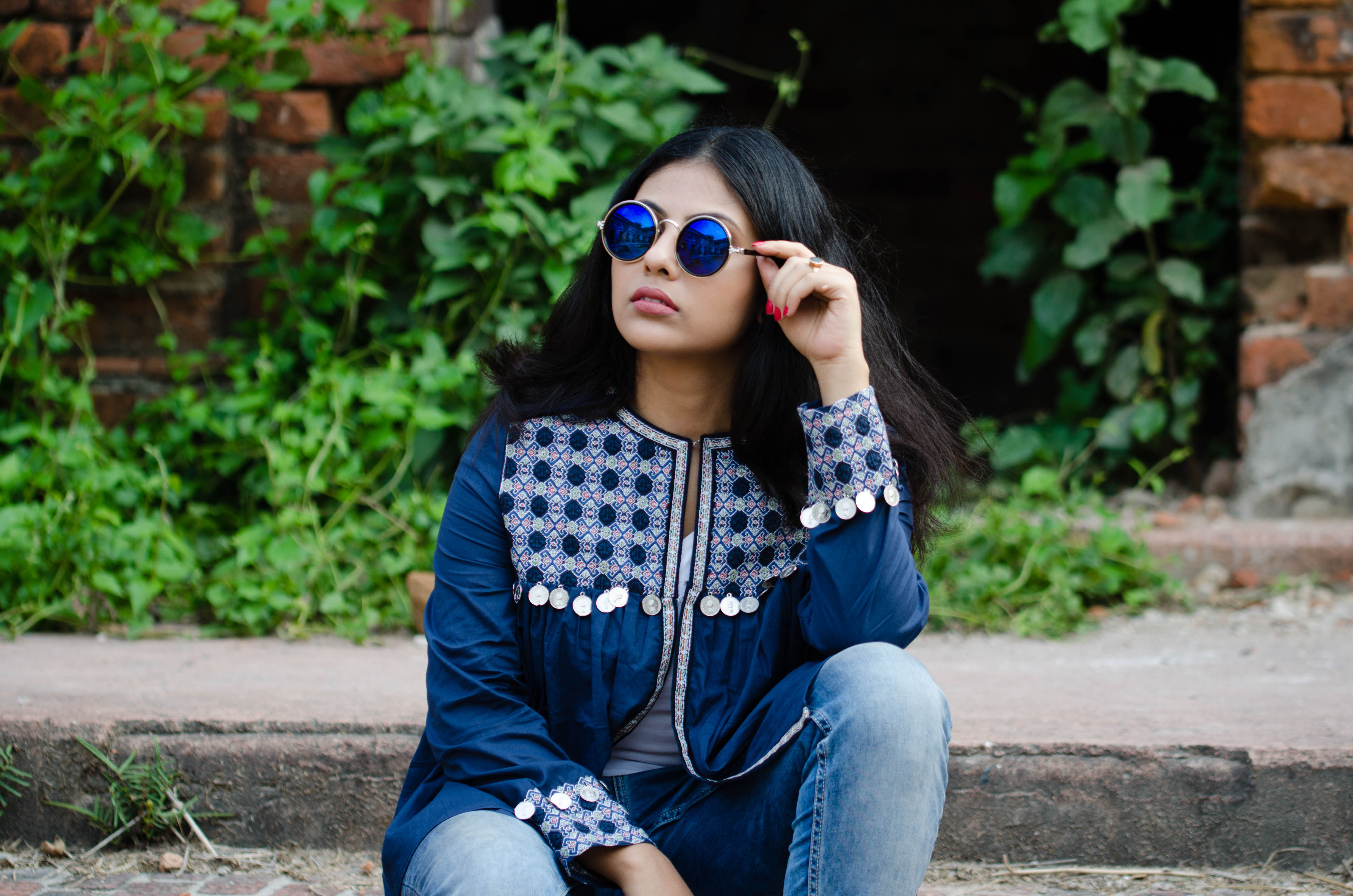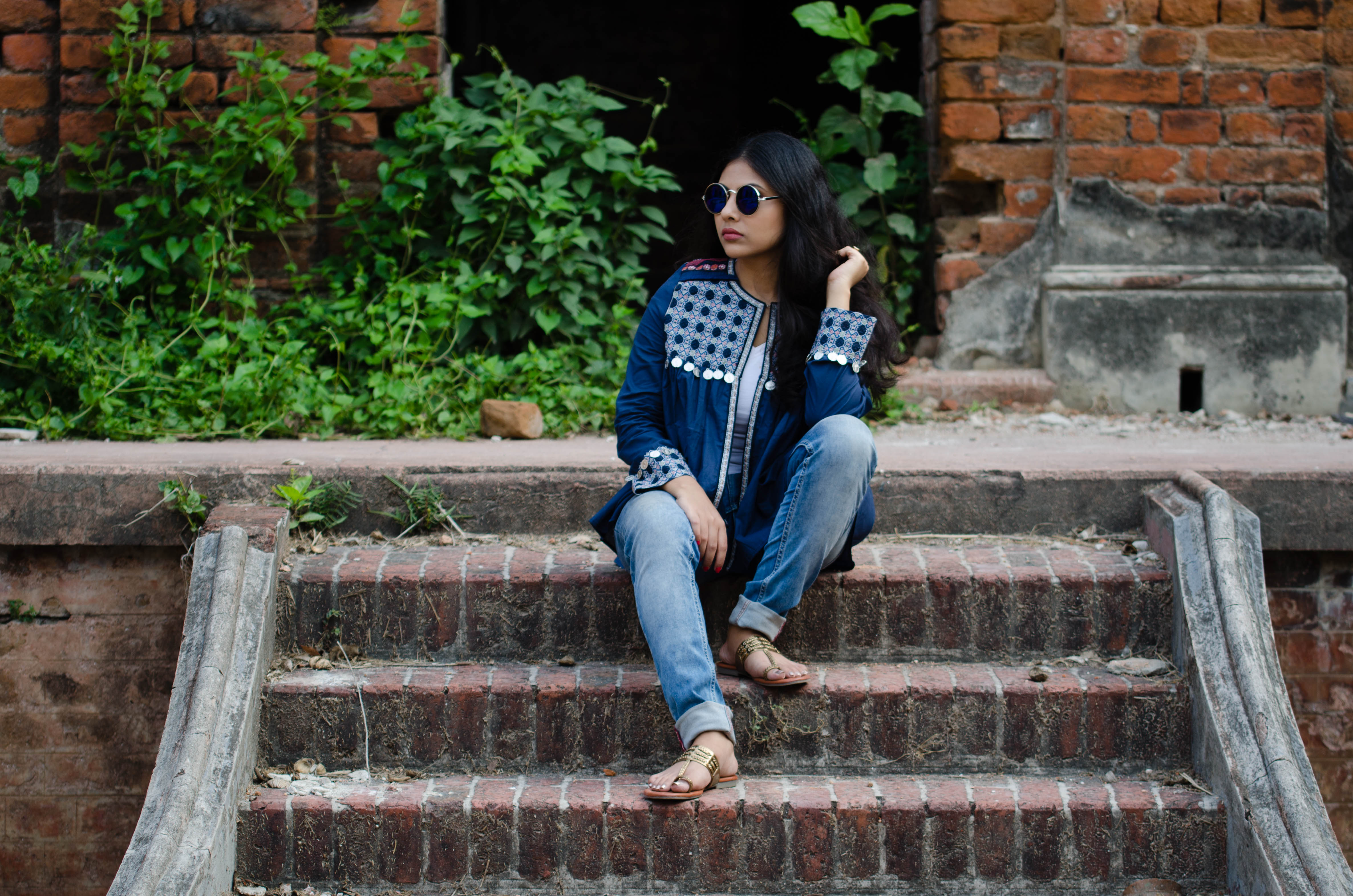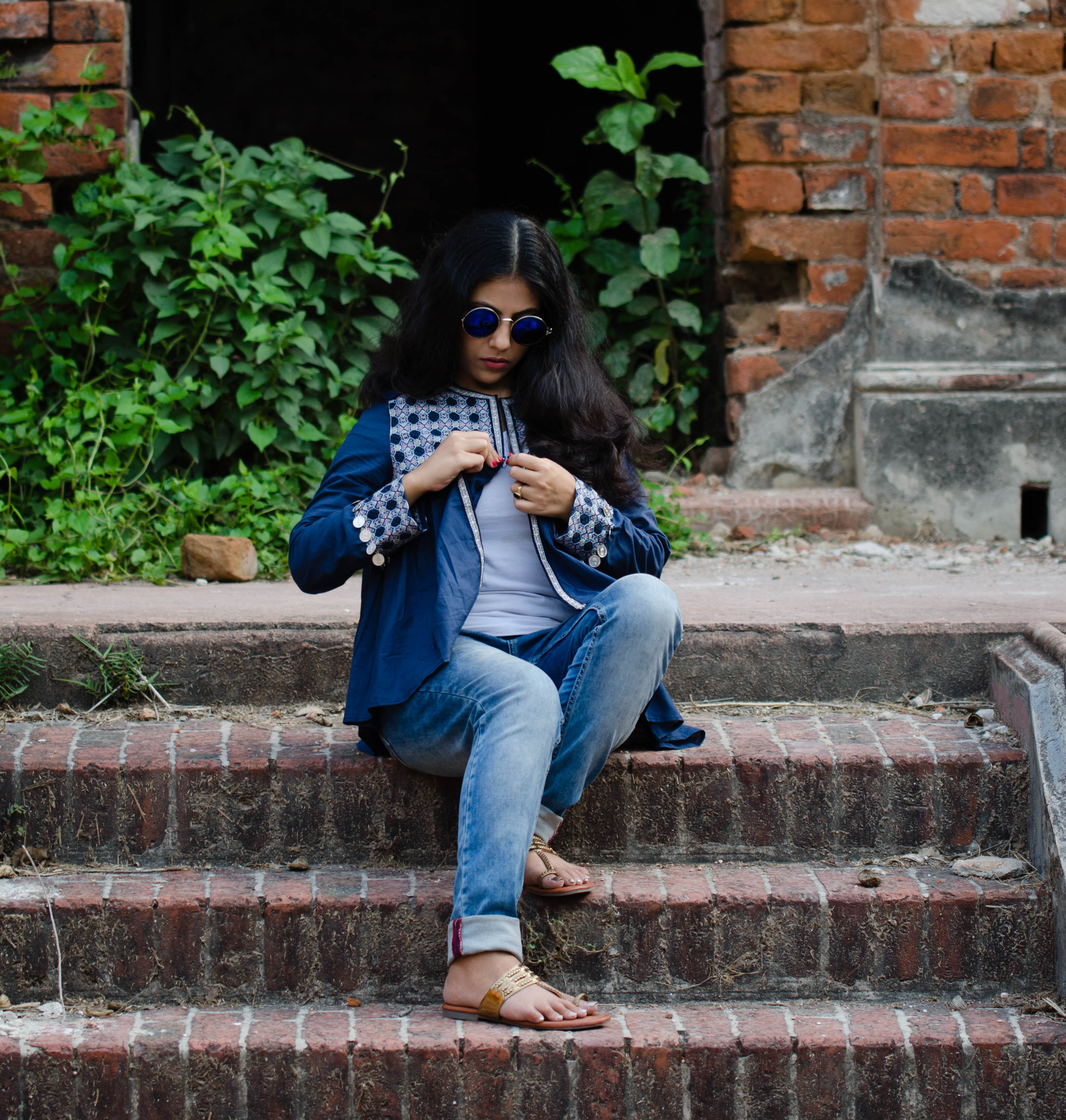 ~Outfit Details~
Embroidered top– Loom Tree// (Buy here)
White Tee– Miss Chase// (Also Worn here)
Sandals– Reliance Footprint//
Sunglasses– Lenskart//
---
That was it for today's post. I hope you found this post helpful. Make sure to share it with your family and friends if you did. Pour in your thoughts in the comments. Your comments encourage me a lot! Do subscribe to our Newsletter so that you get notified whenever there is a new post on the blog. Will talk to you in my next post. Till then, be safe & keep smiling! Follow me on Facebook, Twitter or Instagram for regular updates. Add me on Snapchat for more fun and a sneak-peek of my life.
Disclaimer: The blue embroidered top was sent by Loom Tree.