Hi, guys! How are you all? This week has been a really boring one for me. The past few days were really gloomy and it's still raining every now and then here in West Bengal. You know how much I hate gloom. I am eagerly waiting for the sun to come back soon! Today, I am going to review a website called CanvasChamp.in that specializes in printing your photos onto canvas. So, keep reading.
I have always been a person who loves photographs, photo albums and different types of photo frames. Since childhood, I have a weird interest in photo albums, be it mine or anyone else's. Even today, I love to flip through the pages of our old albums. It helps me relieve the memories that tend to fade away with time. I think photographs prevent those memories to get lost and make sure they are etched on our hearts forever.
If you follow me on Instagram then you might have seen the photo where I showed what I received from CanvasChamp.in. If you have not seen it yet, here is how it looks-
CanvasChamp.in is a site that allows you to print your favourite photos on canvas in different sizes in a very inexpensive price. The price range they have set is quite reasonable. They give you a bunch of options to customize your print in order to get the desired product. I think it is very thoughtful of them to allow the customer to customize the photo as per their preference.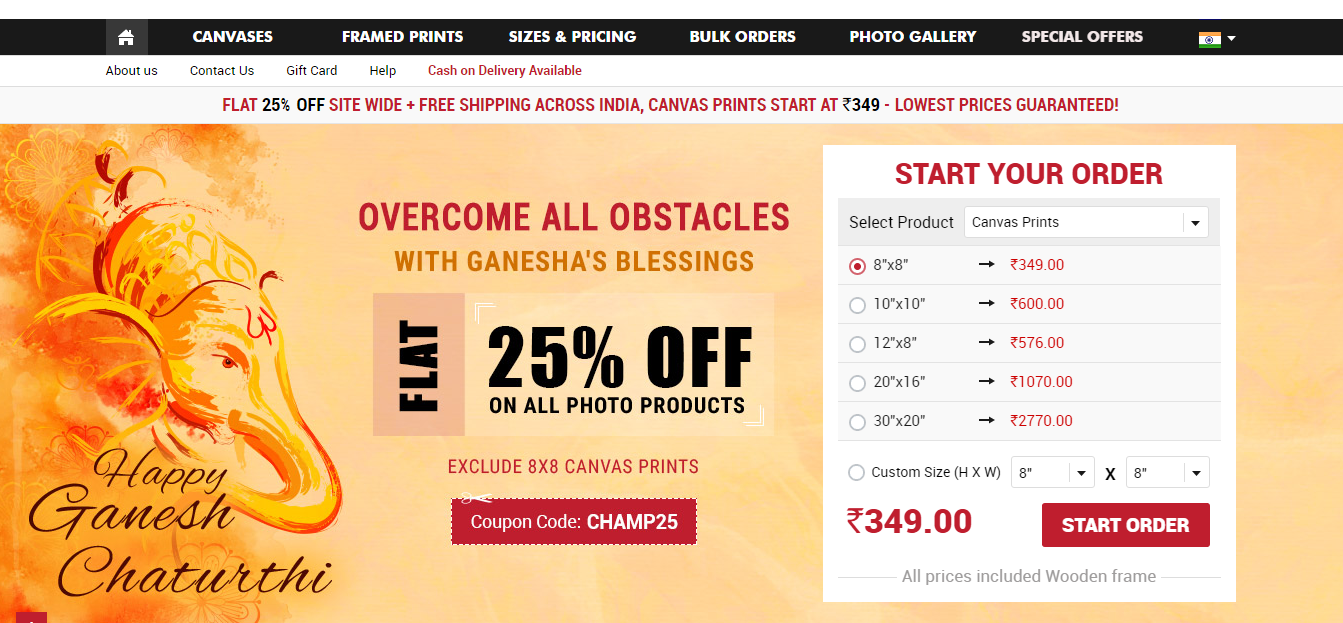 No, let me show how it works. You can shop for your print by logging in to their site or without logging in, as a guest. First, you need to select the size you want your print to be. Next, upload the photo you want to be printed on canvas. You can also import your Facebook and Instagram photos too. Isn't that great? Also, you can choose from their own gallery of images if you like. After uploading the image, you will be made to select the size and orientation and also, you will get the clear view of how your print will look on a wall. How cool is that! Up next, you will be redirected to the next tab where you can choose the hardware options and styles, border and frame options and also the colour finishing. Although the last one is completely optional, I am sure you are going to love the pop-art and caricature options available there. In one word, Canvas Champ offers you a lot of different options to modify and beautify your print before you make your payment. The last step before payment is where you can add texts on your image.
They ship almost everywhere in India. They do not take a long time to deliver your order. In my case it took a week. That is very usual for me. I am sure they have faster delivery in metro cities. The packed my frame very meticulously. It came intact. Also, they sent a screw to hang the framed photo on the wall. Overall, I liked everything about it. I would recommend you to try their service and print your photos on canvas. Currently, they have a Flat 25% off going on on all their products. I think it's the best time for you to try their service. I am happy that I am using something eco-friendly and contributing a little to the environment.
I hope you liked this review and found it helpful. I tried to make it as detailed as possible. I would be really happy if you share this post with your family and friends.
Disclaimer: I received a 12″x8″ framed print as a gift. My review is totally unbiased as usual.